Teltonika presented the newest member of the 2G devices portfolio – MSP500 speed limiter. The main advantage is the speed limiting function that is activated by the internal relay. It ensures the safety of vehicles, cargo, and – most importantly – of drivers by limiting speed in different areas. Deliveries will not be delayed or disrupted because of accidents.
With speed limiters, vehicle owners can avoid additional service expenses (i.e. engine repair or tires wear) and accomplish timely maintenance in the range of planned costs. Fuel consumption is one of the components constituting delivery costs. Thanks to the speed limiting feature, there will be no possibility to overspeed, thus, fuel usage will not increase due to improper driver behavior.
Some of the countries in the world (e.g., India, Kenya, Ethiopia, Philippines, Malaysia, Hong Kong, Canada) already have regulations for mandatory use of speed limiters in commercial vehicles. This best practice continues to spread into other countries (e.g., the United Kingdom, EU countries, Commonwealth of Australia) that are also planning to have similar regulations.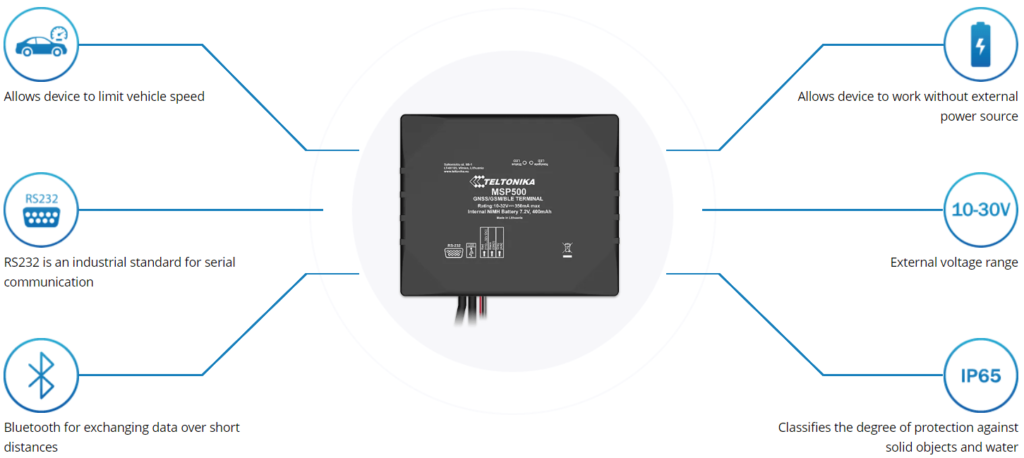 Key features:
Speed limiting with internal relay – ensuring safe cargo delivery without accidents caused by overspeeding and reducing maintenance costs.
IP65 – protection against dust, humidity, and water spray. It works in poor conditions where the impact of water is likely.
Integrated buzzer – for a faster and easier installation MSP500 has an integrated buzzer that informs a driver when reaching the set speed limit.
More information: MSP500