The wireless immobilizer is used for being installed on moving and stationary objects to manage electric circuits.
ADM33 was designed and produced mainly for remote engine cut off/start up. The main working principle is that when there is no Bluetooth connection between ADM33 and the tracker or a smartphone the engine is blocked. Such a function may be appreciated not only by car rental and taxi companies but also by vehicle fleets as well as by ordinary vehicle/car owners who want to improve the anti-theft safety of their vehicles.
ADM33 is connected to the tracker or a smartphone via Bluetooth Low Energy that makes this immobilizer hardly detected. Moreover, the immobilizer does not emit any signal so can be used as a ghost device.
Depending on the operational modes setting you can use it as an electromechanical relay or as a semiconductor relay. It suits both 12V and 24V vehicles (cars, trucks, etc.).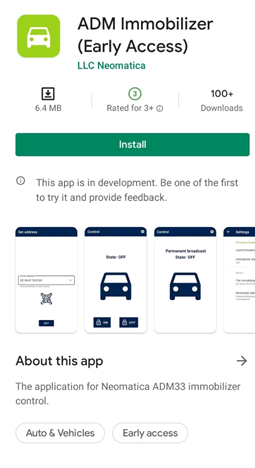 ADM33 is equipped with a digital triaxial accelerometer, that helps to detect any vibration, and together with a flexible anti-theft algorithm can be programmed according to different blocking scenarios.
Together with the Navixy telematics platform and ADM333 BLE tracker this immobilizer represents a complete solution for complex monitoring of various objects.
ADM33 can also be used autonomously without a tracker if you download the free Android App of the manufacturer Neomatica LLC.