Queclink GL500MG is an advanced asset tracker built on Queclink's innovative battery management technology. It lasts for up to seven years and features one of the longest battery lives among devices of its size in the market.
The GL500MG is easy to deploy and supports several mounting alternatives that use unique clip-on design to securely attach the device to any asset.
The built-in light sensors make GL500MG sensitive to tamper attempts and its waterproof design allows it to be used in harsh environments. With internal temperature and light sensors, the product is ideal for a wide range of advanced monitoring applications such as lot management, cold chain logistics, warehouse management, cargo tracking, high-value static asset monitoring, and more.
The GL500MG supports the LTE Cat M1/NB1 network on multiple bands for operation globally with a fallback to 2G.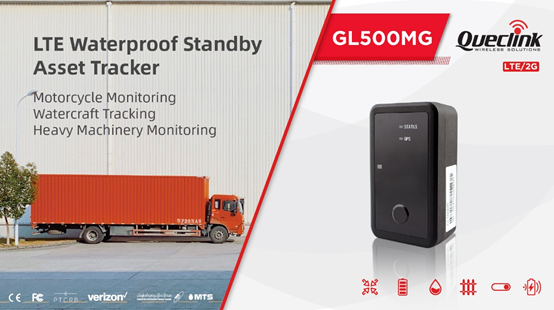 Main features:
Rapid and flexible installation
Up to 7-year standby time
Waterproof, compliant to IP67
Built-in light sensor for tamper detection
Automatic mode switching
Optional wireless charging version available
More information:
GL500MG (http://www.queclink.com/GL500LTESeries)
References