GPS tracker FMP100 by Teltonika is an installable-in-seconds 2G device with Bluetooth support. Once the Business mode is on, routes and working hours will be tracked for the logbook. When the job is done, it could be switched to the Private mode and no tracking records will be made.
Solution advantages
FMP100 is a plug and play GPS tracker with GNSS, GSM, and Bluetooth connectivity and a cigarette lighter power connector for easy installation. It is ideal for light vehicle tracking in applications like courier delivery service, car rental, leasing, insurance telematics, and many other applications, where simple integration is a must. Bluetooth 4.0 LE allows this small device to have capabilities of an advanced tracker: various data reading from Bluetooth Low Energy sensors, hands-free headset usage, firmware, and configuration update.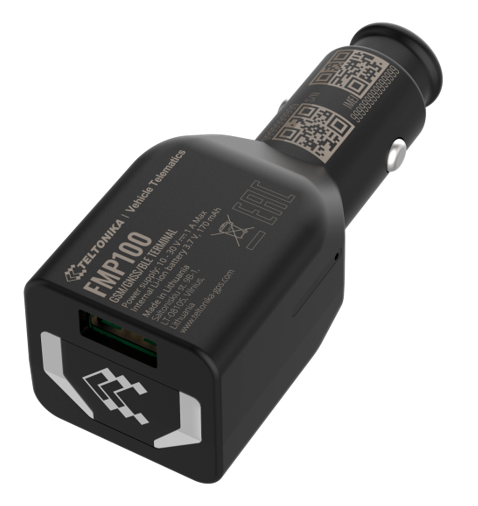 For user convenience, RGB LED shows the current status of a device. Additionally, FMP100 has an integrated configurable buzzer, which can be used to notify drivers in different scenarios, e.g., green driving, overspeeding detection, or excessive idling detection among others.
Key features
Built-in mode toggle and SOS button – allowing you to switch between Private/Business trip modes or generate an alarm in case of emergency.
Bluetooth 4.0 LE – receiving data from Bluetooth Low Energy sensors
RGB LED / Buzzer – helping you to know the status of a device and events in real-time. Built-in features ensure easy customization of notifications.
USB charger – for external devices like smartphones or tablets. Charge them even with the cigarette lighter port being occupied. FMP100 is perfect for insurance telematics, courier delivery services, rental & leasing and other industries.
The new Teltonika FMP100 is already integrated on Navixy, learn more about its features and application or other Teltonika solutions.
Want to never miss a new release by Teltonika or other telematics solution manufacturers? Then feel free to join us on Facebook, Linkedin, and our community portal to stay updated on recent news and progress around telematics.