The JM-VL02 from Jimi IoT (Concox) is not just a robust vehicle telematics device—it's the company's fleet management flagship. The manufacturer describes it as ideal for various types of fleets:
passenger vehicles,
light-duty trucks,
tractor-trailers,
forklifts,
other heavy equipment.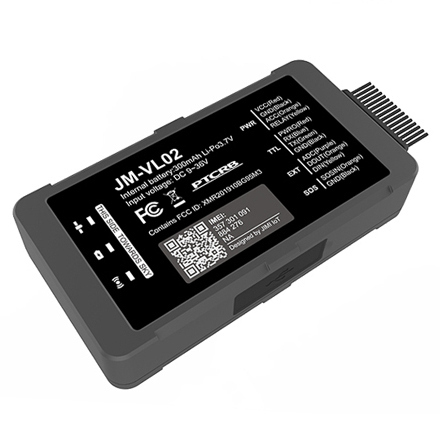 Key Features
In addition to location tracking, this discreetly-installed LTE-M device offers many other features that can enhance the safety and security of employees and assets while allowing for greater visibility into the functioning of fleets.
Cat-M1/Nb-IoT network technology with GSM fallback means the VL-02 will be viable for many years to come.
Discreet, under-the-dash installation keeps the device out of view, and doesn't require charging. Just install once, and forget it.
In-cabin SOS button allows for the driver/operator to alert dispatch or call for help at the touch of a button.
Multiple inputs/outputs allow for the connection of various peripherals, including temperature and fuel sensors.
Multiple, configurable tracking modes for any application.
The built-in DBM system can help monitor and correct dangerous driving behaviors that put your employees and assets in jeopardy.
Remote fuel and power cutoff helps recover stolen vehicles and immobilize equipment in case of emergency.
The 9-36 volt operating range makes this device suitable for a wide range of vehicles and machinery.
With these capabilities and more, the JM-VL02 will help maximize fleet performance, improve the safety of drivers, and run a more efficient operation by providing actionable data and real-time visibility into the fleet's status and behavior.
Availability
JM-VL02 is already integrated on Navixy. See the VL-02 page for more information and connect our support engineers if you need assistance activating the device on the Telematics platform.
Feel free to join us on Facebook, Linkedin, and our community portal to stay updated on the latest news from Jimi IoT and other GPS hardware manufacturers.