Howen recently announced a breaking new AI solution, including the AI MDVR. Together with the latest DMS (driver monitoring system) and ADAS it forms a powerful and proactive mobile DVR solution for GPS tracking businesses interested in advanced features.
What Howen brings to the industry?
Howen took a leap in innovation and initially introduced the AI MDVR. By embedding a quad-core CEVA DSP processor specialized in the commercial vehicle, Howen AI MDVR can run 20 times faster than traditional MDVR and is able to process neural network algorithms. 

Specialized DSP core to execute continuous digital signal processing. 
Algorithms that can process images in the fast-moving scene even under the pressure of multiple video inputs. 
Higher power efficiency and data compression technology for higher transforming speed.
Rich interface for a variety of I/O connections that join to different peripherals and sensors. 
Integration with 4G/5G, WIFI, and Bluetooth for easy connection with Howen VSS or telematics platforms. 
Howen AI MDVR solution covers surveillance, location tracking, and Artificial Intelligence.
Howen AI-MDVR mobile video recorder embedded with a specific AI CPU, which is crafted and developed by Howen and the chipset supplier of DJI.
DMS+ADAS powered by neural algorithms
The in-depth algorithms in the Artificial Intelligent systems (DMS+ADAS), are specially encoded by the world's leading image algorithm company who is also the algorithm provider of DJI and 80% of the smartphones' camera system. Therefore, utilized algorithms are exemplified to have high performance in a complicated light environment, showing a high detection accuracy. The Driver Monitoring System (DMS) and Advanced Driver-Assistance Systems (ADAS) are powered by a compound system that consists of two high-performance customized cameras as the "video signal catchers" and the AI MDVR as the "neural center". These camera members are well-tested and tuned to work with complex algorithms.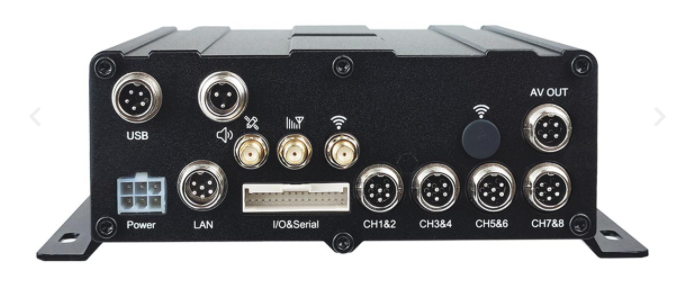 By configuring a 1080p HD camera and accurate FR algorithm, the DMS can efficiently identify human state and facial characteristics. In addition, it can execute real-time driver evaluation and initial interventions to ensure drivers are prepared to take the control of the vehicle. Likewise, the ADAS supported by a high dynamic range camera and specialized algorithm transform road condition into driver alert, enabling drivers to take proactive actions.
Howen upgraded the Mobile DVR system to dual-firmware for increased systemative stability. The brand new firmware supports Smart H.265 video compression technology that is estimated to save up to 80% of storage room and data cost compared with the H.264.
Additionally, the new built-in six-axis sensor has a higher accuracy for displacement detection for harsh acceleration, harsh break, harsh cornering. It provides the vehicle industry more comprehensive evaluation of driver KPI and promoting safer drivers' behaviors. In addition, Howen made the AI MDVR smarter by developing the self-adapting functions for video mode and camera configuration. With these functions, fleet companies no longer need to manually adjust camera resolution and switch from PAL mode to NTSC mode, saving time and setup processes in installation.
Platforms supported
Howen unifies the h-protocol for VSS (Vehicle Service System) platform and FMS (Fleet Management Software) platforms. Users can easily and directly join the up-to-date VSS vehicle management platform or the FMS platforms. To know more about available MDVR solutions on Navixy, please contact our sales team: [email protected].