GAT1000 by Gosafe is an extended durability asset and trailer tracking device built for extreme weather climates and excellent field reliability. The device allows improving the asset performance and business efficiency by tracking and monitoring asset location and statuses.
About Gosafe
Gosafe Company Ltd was incorporated in 1999. During the years, Gosafe has matured various GPS trackers product lines like Fleet tracking, Asset tracking, Plug-n-Play trackers, and Personal trackers.
Features
GAT1000 is equipped with multiple inputs and outputs, including:
RS232 or RS485,
digital inputs/outputs,
AD input/outputs,
1-Wire,
bidirectional BLE4.0
to connect different types of sensors according to different management requirements.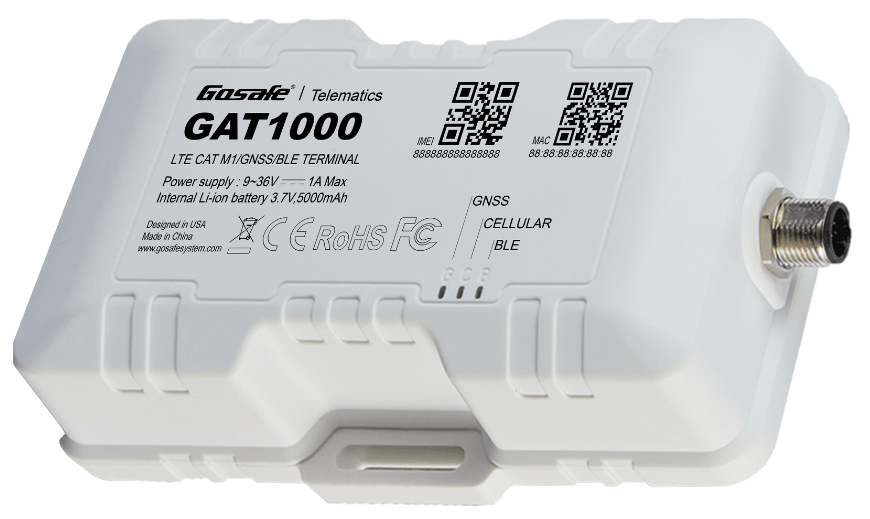 GAT1000 supports Gosafe advanced GEM (Gosafe event management) scripting language which allows the programming of devices for any application needs. That means the device can be customized to capture and deliver a wide range of data to back-end systems.
GAT1000 is specially developed for long transportation and various valid assets tracking and protecting. Therefore, it embeds a large (5000mAh) rechargeable battery, providing a solution for assets that are tethered or may sit disconnected for periods of time.
Applications
Utilizing high sensitive GPS module, GAT1000 can support real-time and precise trailer tracking. With a 5000mAh rechargeable battery and water-resistant IP67, GAT1000 can ensure tracking efficiency in all weather conditions, allowing you to monitor the fleet almost 24/7.
In many cases, it's necessary to hide the tracker to protect cargo better. GAT1000 is a small tracker that is easy to hide. Besides, GAT1000 could optionally be equipped with a mounting enclosure including a connector that allows installing it inside the cargo. GAT1000 can send a signal back to the trailer manager when/if the tracker is being removed.
Keeping temperature and humidity in a suitable range is an important task to ensure transportation quality. GAT1000 is equipped with Bluetooth and RS232 serial port which allows connecting temperature, humidity, and door sensors for the device to send an alert when the detected value exceeds the range.
GAT1000 also supports the fuel sensor to get real-time information on fuel level for the fuel tank. The door sensor and load sensor support allow getting information on actual usage to improve the trailer operational efficiency.
GAT1000 supports Load sensors in the trailer enabling the manager to estimate available space in the trailer. Besides, Real-time tracking and engine sensor can help monitor the running status of the trailer, idling, and whether it is running efficiently.
Availability
The new GPS tracker is already integrated on Navixy. If you need assistance activating the device on the platform, please don't hesitate to contact our support. For more information on the features and parameters of GAT1000, please visit the manufacturer's website.
Want to never miss a new release by Gosafe or other telematics solution manufacturers? Feel free to join us on Facebook, Linkedin, and our community portal to stay updated on recent news and progress around telematics.