Digital Matter recently introduced a new feature-rich compact tracking device – G120. It's available in 2G or 4G Cat-M1 / NB-IoT with multiple customizable inputs and outputs, Bluetooth® 5.0 Gateway, and Iridium Option for Fleet Management, Driver Behaviour Monitoring, Driver ID, Out-of-Coverage Tracking and more.
The G120 is a highly capable GPS/GLONASS cellular tracker with a variety of inputs and outputs. Operating on 2G or 4G Cat-M1/Nb-IoT networks, the G120 is fitted with a Bluetooth module, so that it can operate as a Bluetooth Gateway and relay sensor or tag data to the server.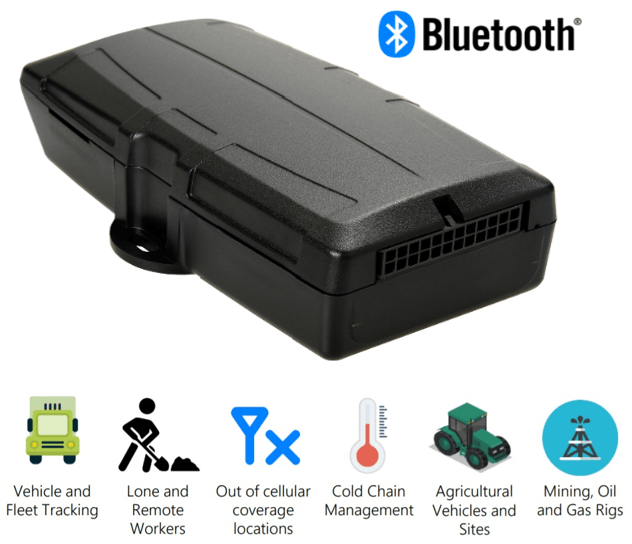 With the internal GPS and cellular antennas installation is a breeze. The internal backup battery provides alerts and tracking operations even when external power (8-45V) is removed.
The G120 is equipped with a Bluetooth v5 module, enabling it to act as a Bluetooth Gateway and is also Iridium compatible with the addition of an Iridium Edge module via the G120 wiring harness.
This enables a near Plug and Play option for out of cellular coverage tracking.
Features
24/7 Vehicle location
Ignition + 6 Inputs and 2 Outputs
Driver ID: RFID, iButton, Wiegand
3D Accelerometer
Internal Back-up Battery
Iridium Hybrid Option
G120 Wiegand Interface
The Wiegand Interface is a wiring standard found on card readers and access control systems. It has become somewhat of a de facto standard for such systems.
Wiegand initially caught on in the 1980s due to its ability to support far longer cable runs than other standards at the time. Wiegand swipe cards also do not contain microchips and cannot be magnetically erased, making them durable.
Newer standards have since developed, and you do not see many Wiegand cards in use anymore. However, while the actual swipe card may use a different protocol, many readers have a Wiegand output which is used to send the data to other devices or control systems.
The G120's Wiegand Interface enables easy integration with a variety of RFID card types and readers. Existing employee access badges or ID cards that support Wiegand may be used for Driver ID, permission-based actions, and theft prevention, eliminating the hassle of issuing additional ID cards or fobs. This saves time and money reissuing ID cards for large fleets, who many have hundreds or thousands of employees that would require updated credentials.
Default settings
The G120 will operate with default settings out of the box. These can be changed using the OEM Admin interface. The defaults include:
Hourly Heartbeats: the device will log a heartbeat record, connect to the server, and refresh its GPS data every 60 minutes.
Wired AND Emulated Ignition: by default, the G120 will track a trip if either the ignition wire is pulled high or movement is detected. The setting can be changed to do one or the other, or continue to use both.
Inputs: inputs are pulled up internally and are active low. This means you can connect pull to ground switches or contacts.
Output: the output is not used by default
Driver ID: read Driver ID from the DM RFID reader. No special set up required to simply read tags.
More: www.digitalmatter.com