More than 15 months passed GTX Group announced the start of GPS SmartSole sales. A few days ago the US company embarked on the German market.
This wearable device is designed for senior people with memory impairments caused by Alzheimer's, Dementia, Autism or Traumatic Brain Injury. They just can put these hi-tech shoe soles with GPS/GPRS chip into their shoes and be observed by the relatives or service crew.
The idea is just as noble as simple. The last thing that can be left at home by an ailing person is a pair of shoes. Though, there's no guarantee that it also won't be lost: unfortunately, the similar cases aren't uncommon even in cold northern countries. Anyway, it reduces the risks and guarantee that more people will get the timely assistance.
Obviously, such ideas have been discussed on the market for the last several years. The manufacturers had to solve two fundamental problems. At first, they needed to equip this ultra-portable device with a good high-sensitive internal GPS/GPRS antenna. Secondly, that device needed micro-battery that could ensure the long-lasting work of the device.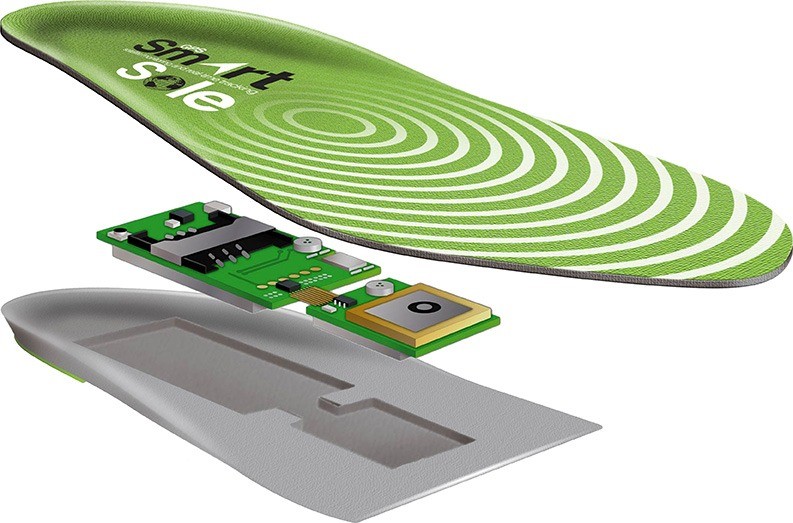 According to GTX Group statement, they have partially solved these problems and create an unique custom product. Actually, SmartSole seems to be the smallest personal GPS trackers in the world.
This tracking device consists of just two soles with GPS receivers. Then the signal goes to satellites and comes back to the guardian's PC or mobile phone. For people who usually don't leave their flats, the manufacturers offer Bluetooth Low Energy footwear system with extended battery life and more stable work but only in the predetermined local zone.
Some market players are quite skeptical about such type of devices. They marked that all of these portable "spy" gadgets still can't boast the stable performance. And only the market can dispel the doubts.
Right now the market reports show that 300$ price doesn't scare consumers, who can't solve their family problem another way. It is quite comparable with European personal-focused GPS trackers like Trax or PocketFinder. At least, buyer's interest may outweigh their desire to save money in such a soulful issue.