The Indian space fleet was enhanced with 5th navigation satellite and their IRNSS becomes stronger from day by day. The spacecraft was launched from Satish Dhawan Space Centre in Sriharikota at 9.31 am on Wednesday.
The lifetime of the satellite is a period of 12 years, that makes the project comparatively thrifty for India. For example, the estimated lifetime of present GPS satellites is lower up to 20 percent.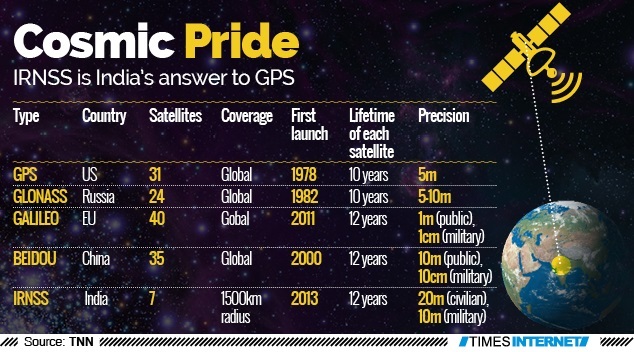 The government takes a tack to provide GNSS technologies for various sides of Indians' life. There is the real "satnav glut" in the country with the terrific plans of equipping all fuel tankers or coal trucks with GPS devices.
India has its GPS boom on a consumer market. The country is invaded by Chinese GPS devices and some manufacturers claims India as the main sales market whole. This priority is reasoned by the numbers of potential customers and the absence of big local GPS brands.
The expansion of IRNSS will dictate the new rules for manufacturers. At least, they will be forced to build new GNSS receivers that will support ISRO brainchild. However, Chinese companies will also have to be ready to face the increasing competition with local manufacturers who definitely will be awarded by the government lobby.
ISRO plans to launch two more IRNSS satellites in the next months. The estimated accuracy of the positioning should be carried to 20 meters for civil and 10 meters for army devices.