The Electronic Logging Device (ELD) is a must for almost every commercial truck and bus in the USA starting December 18, 2017. The number of drivers affected by new regulation is estimated to be more than 3 million. No more paper logs are allowed and even the use of AOBRD (Automatic On-Board Recording Device) is only possible for 2 more years and only in case you've had it on board before December 18.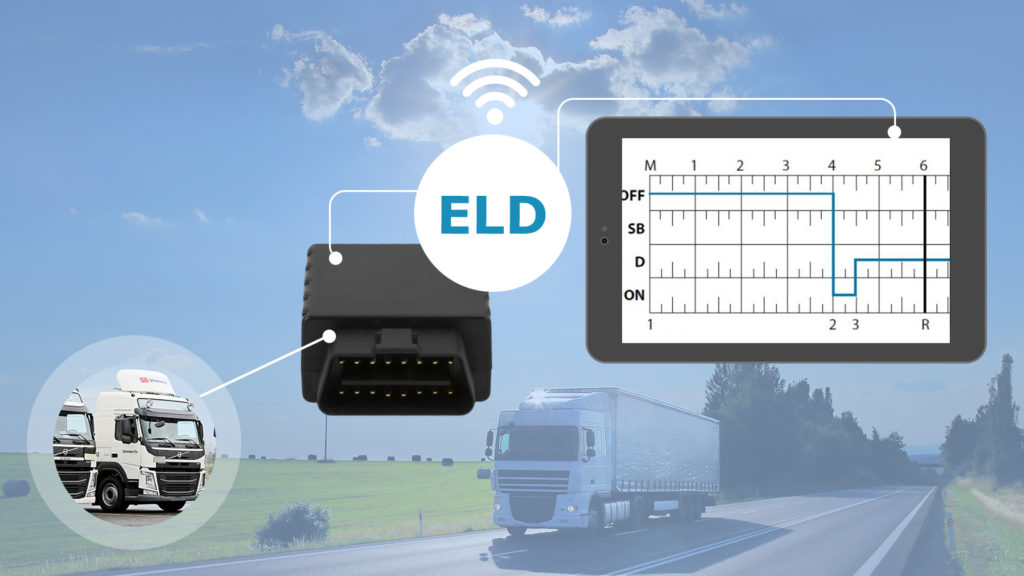 ELD – what is it and how to use it?
An Electronic Logging Device is a technology used by drivers of commercial motor vehicles (CMVs) to automatically record driving time and Hours-of-Service (HOS) records. It also captures data on the vehicle's engine, movement, and miles driven. A motor carrier has an obligation to keep both the ELD RODS data, and a back-up copy of that data on a separate device for at least six month. The carrier must ensure that these records are stored securely to protect driver privacy. FMCSA will not retain any ELD data unless there is a violation.
An ELD automatically records the following data elements at certain intervals:
Date and Time
Location information (1-mile accuracy)
Vehicle miles and engine hours
Driver's identification information
Change of duty status
Vehicle identification data and motor carrier
For every driver a motor carrier creates and individual user account. Users must login before the vehicle starts to move and manually:
Select Driver's duty status: Off duty / Sleeper berth / Driving / On-duty not driving
Input the following information in the ELD:

Annotations, when applicable;
Driver's location description, when prompted by the ELD;
Output file comment, when directed by an authorized safety officer.

A driver must manually input or verify the following information on the ELD:

Commercial motor vehicle power unit number;
Trailer number(s), if applicable;
Shipping document number, if applicable.
On request by an authorized safety official, a driver must produce and transfer from an ELD the driver's hours-of-service records (via wireless web services, USB or Bluetooth 2.0) in accordance with the instruction sheet provided by the motor carrier.
There are two parts to ELD: the hardware device connected to the vehicle's engine and the software part, an application that collects and manages the data it receives from the hardware via Bluetooth or USB. The application is also synchronized with some fleet management software that allows monitor the data in real time.
There are two basic ways of using ELD: an all-in-one package including a device with a pre-loaded mobile app and a BYOD solution. A smartphone or tablet can be used as part of the ELD solution if it meets FMCSA (Federal Motor Carrier Safety Administration of the USA) technical specifications and is certified and registered.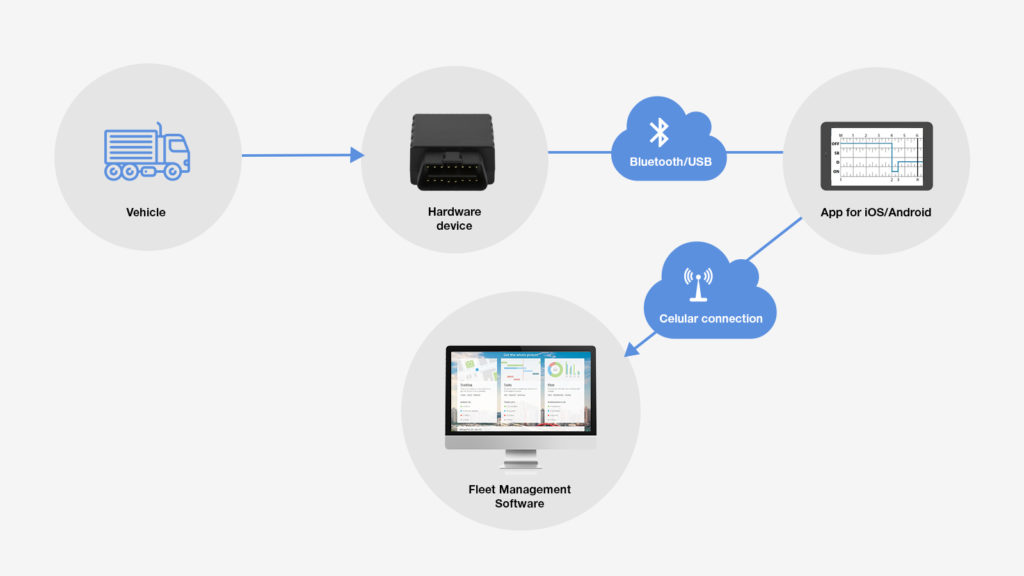 Why ELD?
The main aim of ELD regulation is to eliminate driver fatigue thus making roads more safe and to make it easier for motor carriers, drivers and police officers to keep track on the legal side of the trucking business.
The ELD rule:
Requires ELD use by commercial drivers who are required to prepare HOS or Records of Duty Status (RODS).
Establishes the technical standards for ELDs. The devices have to be certified and registered with FMCSA.
Determines what supporting documents drivers and carriers are required to keep.
Prohibits harassment of drivers based on ELD data or connected technology (such as fleet management system) and provides recourse for drivers who believe they have been harassed.
Given the changes in the legislation for motor carriers and drivers, device manufacturers adopted solutions to solve new challenges. Let's see some examples of the ELD rule-compliant solutions.
Examples of ELD implementation
There are currently more than 150 FMSCA-compliant manufacturers, the full list is available on the official site. In order for a solution to be included in the list it should include a hardware and a software part functioning properly although the two parts may be developed by different companies. The examples of leading ELD solutions for motor carriers are Gorilla Fleet Safety, Mobile Warrior, Wireless Links and Assured Tracking.
We will examine three different models of ELD implementation.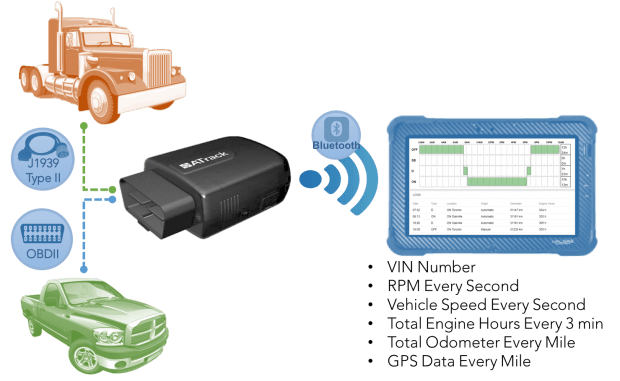 The company has prepared a solution for its clients to make it easy to comply with new regulation. Being a hardware manufacturer, ATrack offers a tracking device which can be later connected to ELD app and used in full compliance with ELD regulation.
We have strategic ELD app partners for ELD market. Some of our customers are in the process of getting our devices and their ELD app listed on FMCSA list.

Yiching Chen, Marketing Communication Specialist at ATrack
ATrack AX9, a vehicle telematics device with dual OBDII and J1939 compatibility, conforms to the ELD mandate requirements for Vehicle Interface hardware. It obtains data parameters such as engine status, engine hours, odometer, RPM, VIN, and diagnostic trouble codes (DTC) that can be wirelessly transmitted to a tablet's ELD application via Bluetooth. ATrack also has strategic partnerships with several FMCSA certified ELD software companies and one more ELD-compatible device model coming soon.
Our upcoming 4G LTE Cat.1 product AK11 LTE Fleet Hub, a versatile LTE device suitable for real-time management of both small and large fleets is not only compatible with 9-pin (J1939), 6-pin (J1708) ,OBDII, Mack Cable and Volvo cable and complies with ELD mandate, but can also bring various benefits for fleet management.

Yiching Chen, Marketing Communication Specialist at ATrack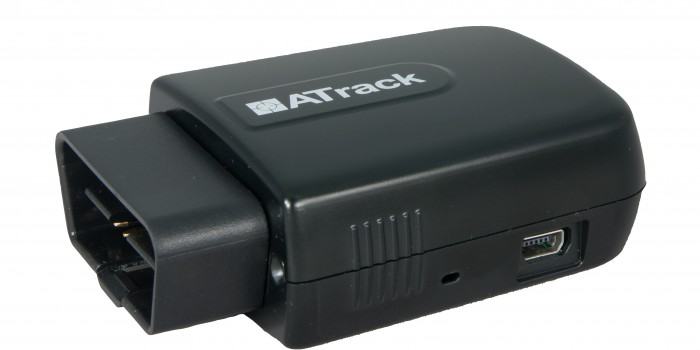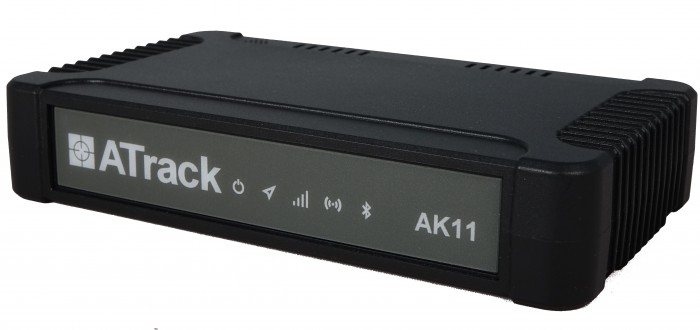 Geotab
Geotab offers an interesting solution for drivers. Its Cloud ELD network works by interconnecting the Geotab GO telematics device and the MyGeotab fleet management software with a mobile device running the Geotab Drive app, a FMCSA-compliant solution for Hours of Service (HOS), Driver Vehicle Inspection Reporting and driver identification. The app is available for Android and iOS devices.
Let's see how it works. Engine and GPS data from the GO device is sent to the MyGeotab server. Duty Status logs are created on the server, and then pushed down to the Geotab Drive app together with engine and location information.
As the vehicle is driven, the system follows a cyclical process:
The Geotab GO device sends engine data and location data to MyGeotab.
The Drive App sends the duty status of the driver to MyGeotab.
MyGeotab combines the data from the Drive App and the GO device to create an accurate record of duty status.
MyGeotab sends the updated information back to the Drive App.
KeepTrucking
Keep Trucking is a FMCSA-compliant solution that provides the necessary hardware and app compatible with Android and iOS. The solution is really popular in the USA and is highly rated in App Store and Google Play. The system is quite easy – the connection between the hardware part and the app is established via Bluetooth and the app transmits the data to the server where it is processed.
Drivers don't have to worry about anything – the solution is completely DOT (Department Of Transportation of the USA) compliant and the app has a mode of DOT Inspection Mode while the driver himself has a DOT reference card issued by KeepTrucking.
Conclusions
The number of FMCSA-compliant ELD manufacturers is growing. The list of compatible manufacturers already includes dozens of companies and the tendency seem to be gaining momentum. Leading GPS tracking service providers such as Navixy and Wialon have already written upon this subject and showed how to use their platforms to comply with the ELD rule. The benefits of a full-featured GPS tracking platform complemented by compliance with ELD rule is a best option for USA fleet owners as it brings the peace of mind on the legal side and a set of useful tools for fleet management.
Being the part of the MAP21 (Moving Ahead for Progress, a milestone legislation, signed by Barack Obama), the ELD rule makes it clear that from December 16, 2019 there will be no alternatives to ELD, all the commercial trucks and buses in the US will have to comply with the legislation. Aiming at making world a better and safer place to leave, this rule implies sufficient costs for motor carriers but can prevent a lot of human-factor accidents in the long run.