How to keep an eye on the driving behavior and drivers without distracting them? Three American developers OmniVision, Ambarella, and Smart Eye team up to present a combined Driver monitoring and videoconferencing solution to adapt to various vehicles and applications.
Contributing companies
OmniVision Technologies is a leading developer of advanced digital imaging products, Ambarella, Inc. (Nasdaq: AMBA) is an AI vision silicon company, and Smart Eye is a world leader in developing eye-tracking systems that use digital cameras to track the movement of the eyes and gaze direction in real-time. Together they came up with the first combined Driver Monitoring and Videoconferencing Camera Solution.
What the solution is made of
The actual solution features OmniVision's industry-first OV2312 image sensor for the automotive industry with a global dual-mode shutter that efficiently captures images even in low light surroundings. These duplicates are then processed simultaneously by Ambarella's CV22AQ CVflow® Computer Vision processor, which runs Smart Eye's algorithms to analyze driver status and alert the vehicle in case of unsafe indications such as drowsiness.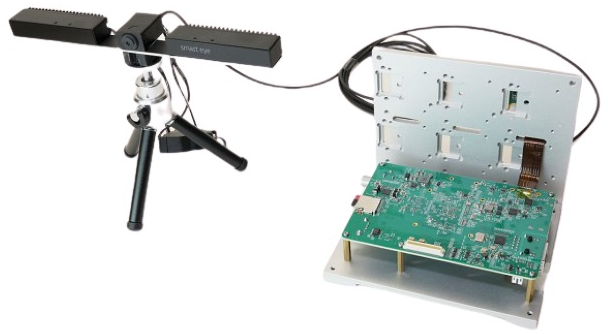 The companies worked together to integrate and fine-tune this solution, which is available as a complete reference design. This approach helps automotive designers to focus on their final application while simplifying the overall design efforts.
A wide range of applications
As designed, the solution is expected to open up an array of driver and in-cabin monitoring implementations, from safety applications to deep neural networks and AI.
The one-way video conferencing allows remote conference participants to see those in the cabin, while the vehicle receives audio only to reduce driver distraction.
Live demo presentation
A live virtual demo and interactive Q&A session for this joint reference design will be available at AutoSens Detroit Online, on Wednesday, November 18th at 2:50 pm (Eastern / GMT -5). Event information and registration are available here.
Subscribe to our Facebook and Linkedin communities to stay updated on recent progress and news around telematics.