Markets and Electric Fleets
Dramatic advances in Electric Vehicles (EVs) technology, alongside with nowadays focus on reducing global warming and continuously increasing attention to zero-emission vehicles, have provided a solid basis for EV market growth. According to Research and Markets, the Global Electric Vehicle Market is Estimated to Grow from 3,269,671 Units in 2019 to Reach 26,951,318 Units by 2030, at a CAGR of 21.1%. Electric vehicles will make up the majority of new car sales worldwide by 2040, and account for 33% of all the light-duty vehicles on the road, according to Bloomberg New Energy Finance.
Zero-emission electric fleet owners may benefit from reduced maintenance and running costs, reduced taxes and charges due to the absence of carbon emissions, increased company reputation, relatively high electric vehicles re-selling costs, and more positive drivers experience. According to 2019 survey from Kia Motors UK, 65% of fleet managers reported that their fleets included both pure electric vehicles and plug-in hybrid electric vehicles (PHEVs) – marking a massive 27% increase in the space of just a year.
A 2019-year survey, done by the Renault-Nissan-Mitsubishi alliance revealed that 66% of the small business owners believe that corporate fleets will become completely electric within the next two decades. All these statistics demonstrate increased fleet owners' attention to Electric Vehicles and overall Electric Vehicles impact on a modern society.
Telematics for EVs: challenges
To allow effective and reliable fleet management, electric vehicle should be equipped with a set of EV-specific capabilities, allowing to monitor energy consumption and generation, battery real-time state of charge and charging activities, location of available charging stations, charging time, etc. All these capabilities have to be successfully implemented to address the following EV challenges: limited battery capacity, long battery charging cycles, currently limited amount of charging stations, accuracy of Remaining Driving Range in on-board displays and lack of associated standards. In addition, there is entailed problem of data integration into EV infrastructure.
Therefore, modern telematics solutions have to address these challenges efficiently. This is also a hot topic currently for researchers and engineers. For example, in [Smuts M., et al. 2019] researchers developed the Internet of Things – based EV Data Integration Platform, especially addressing device heterogeneity, data interoperability and service expandability. According to this paper, its main theoretical contribution is a Data Integration Platform for EV using the IoT and several enabling technologies found in modern EVs.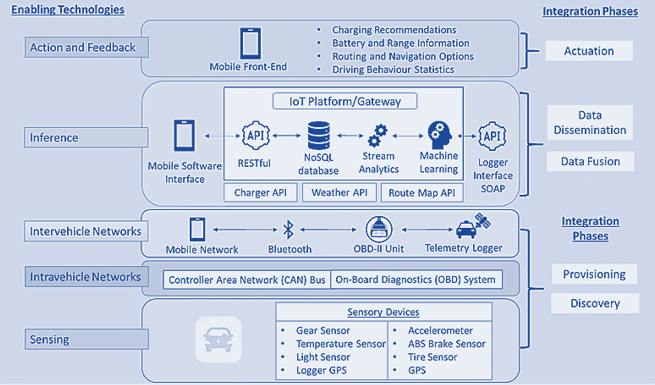 The platform incorporates the Microsoft Azure IoT and the HDInsight suite. Azure IoT suite provides broad range of interconnected scalable and flexible services and configuration to build large scale data analytics applications. The proposed Data Integration Platform is based on the five categories of enabling technologies and the five integration phases for integrating connected vehicles in the IoT ecosystem. The platform describes the flow of data from the EV, the IoT, and cloud technologies through the five phases: from the Resource Discovery phase, the Provisioning phase, to the Data Fusion, Data Dissemination and Actuation phases.
Implementation pathways
SmartCharge Platform by FleetCarma (a division of Geotab) includes SmartCharge Profile (real-time system load profiling to gain a complete understanding of all EV charging and driving, critical to system and demand management planning), SmartCharge Rewards (behavioral load shifting for EVs Rewards for electric vehicle drivers, increase customer engagement and manage EV charging demand through incentives) and SmartCharge Manager (direct load control for EV charging – solution which guarantees participants will have sufficient range for their next trip).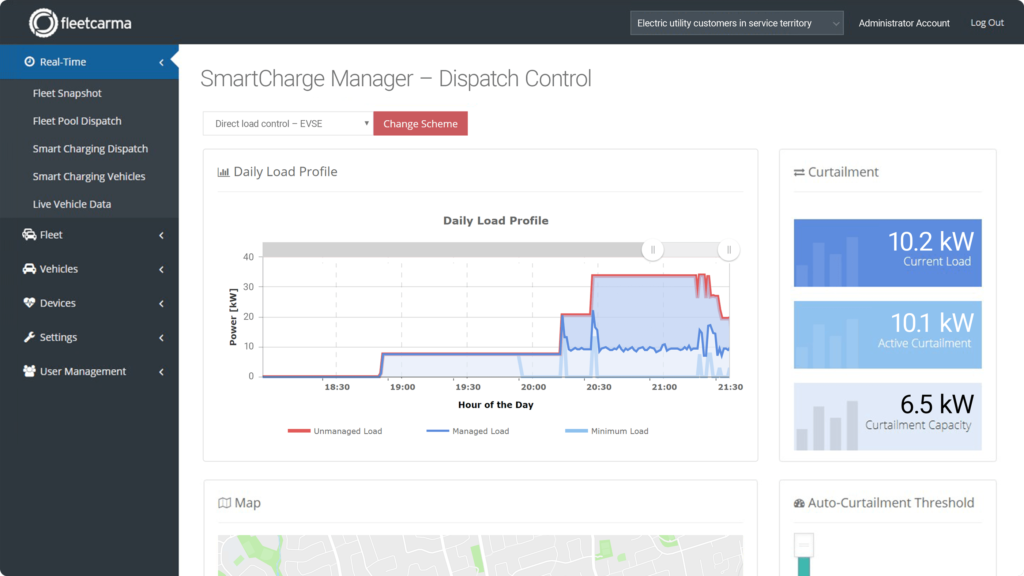 Another example is Choreo – a cloud-based service delivery platform by Airbiquity. Airbiquity's Electric Vehicle offers integration of the necessary vehicle system hardware, connectivity devices, mobile networks, smartphone apps, and content providers with robust service management capability including over-the-air (OTA) updates and back-office IT system.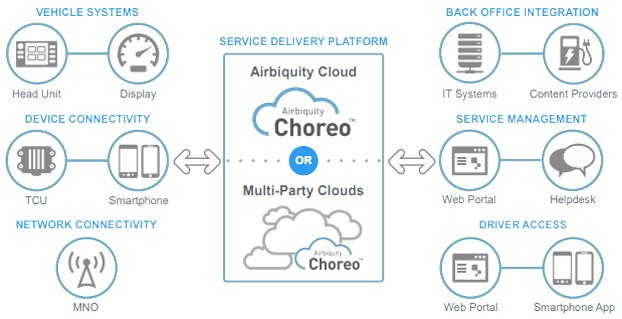 Choreo is a cloud-based service delivery platform with open architecture, that enables end-to-end service delivery or component level integration into existing services and multi-party clouds. According to their description, "Choreo integrates the entire spectrum of vehicle systems, connectivity devices, communication networks, content providers, and back office IT systems required for traditional and emerging connected car services. Service delivery can be easily configured and managed at the geography, make, model, and trim level with a feature-rich web portal, including policies and role-based user administration".
EVs provide a great opportunity to save fleets on fuel costs, reduce carbon emissions, increase company reputation and leading to more positive driver's experience. To allow efficient EVs fleet management, leading telematics platforms should provide all the necessary tools and features to monitor electric vehicles: monitor energy consumption and generation, battery real-time state of charge and charging activities, location of available charging stations, charging time, etc.
References
Smuts M., Scholtz B., Wesson J. (2019) Issues in Implementing a Data Integration Platform for Electric Vehicles Using the Internet of Things.
www.virta.global/global-electric-vehicle-market
www.iea.org/publications/reports/globalevoutlook2019
www.globenewswire.com
www.jato.com/global-sales-of-pure-electric-vehicles-soar-by-92-in-h1-2019
https://thedriven.io/2019/08/26/electric-vehicles-are-already-cheaper-than-petrol-cars-for-fleet-owners
https://about.bnef.com/blog/electric-vehicles-accelerate-54-new-car-sales-2040
https://blog.route4me.com/2019/07/telematics-electric-vehicles
www.expertmarket.co.uk/vehicle-tracking/electric-vehicle-fleet-management
www.airbiquity.com/product-offerings/electric-vehicle
www.geotab.com/fleet-management-solutions/electric-vehicles
www.fleetcarma.com/benefits-telematics-electric-vehicles
www.geotab.com/going-electric