OTA or over-the-air is a technological way of delivering software and firmware updates to devices by means of Wi-Fi, mobile broadband, and built-in functions in the device OS. Over-the-air essentially means that there's no need to connect one device to another for updates installation. Here we further describe OTA and it's benefits to connected vehicles and telematics in general.
What is OTA and why it is useful
Software-Over-The-Air (SOTA) allows delivering software updates to various devices using their network connection (Wi-Fi, Bluetooth, broadband) eliminating the necessity for any physical interaction with the actual hardware.
In practice, it means that a particular file is downloaded for example to the vehicle having been sent from a cloud-based server through a Wi-Fi or mobile network. It could be sent to the vehicle directly, or to some device and then uploaded for instance using Bluetooth.
Provided that all the IoT infrastructure is in place and SOTA architecture being built effectively, such an approach provides fast, secure, and scalable software updates despatched from the cloud-based server. As a result, SOTA users could benefit from:
Decreased download time reduces the manufacturer's distribution costs.
Users quickly receiving the latest products from businesses — for example, new add-ons to the telematics platform or navigation parameters for autonomous vehicles.
Decreased arrival time to customers/users for a freshly released opportunity and/or telematics platform feature. Increased customer experience.
Enabled two-way communication increases preventive maintenance efficiency and data gathering for further insightful analytics.
More personalized updates ensure effective task planning.
Obviously, this is not a complete list of benefits, since the actual one will depend on particular application and may entail also remote access management, biometric services and various additional hi-end features.
Remote software update: routines
The figure below in a rather simplified way demonstrates the remote software update procedure. As being mentioned before, some key advantages of the OTA-based technique are that it is cost-effective and quick.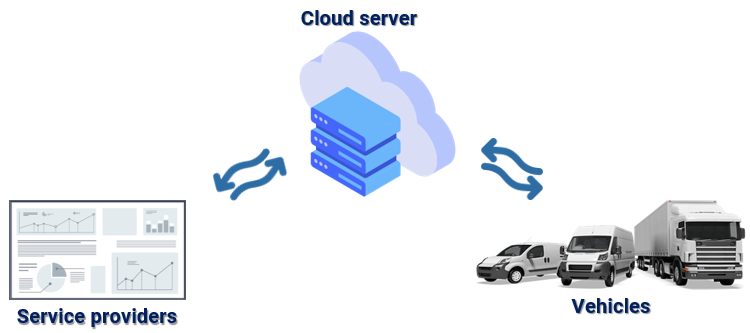 Actually, it is possible to diagnose the car based on the data received through over-the-air from the car. It is quite critical to bear in mind that the remote updates involve complicated multi-step techniques, such as secure transfer alongside installation and throughout verification on the specified ECU.
Each step of the update process has an impact on the efficiency of the whole update procedure. It is very important to evaluate the effect of
various solutions on the actual vehicle operation and analyzing their
performance on particular devices.
Going practical
According to statistics, the most common technical issues in vehicle tracking originate from tracking device failures. Air configuration console – a tool which comes as a part of Navixy Admin panel, helps to handle these issues fast and effectively.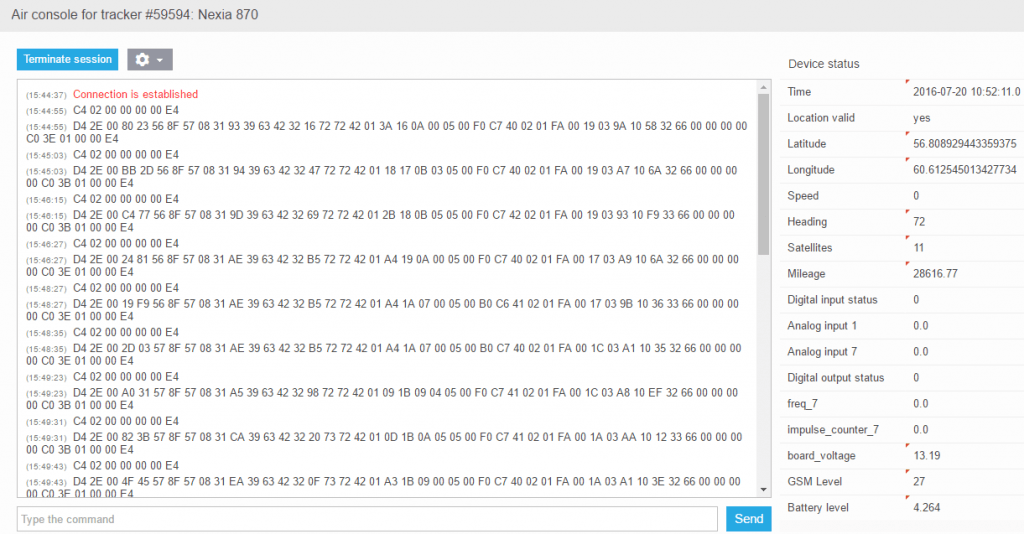 Air Console helps to send commands to a tracker by means of protocols. The process is going online by GPS without any delays in sending and receiving messages. Users may see all the messages that the tracker sends to a server and also send commands to your tracker (in case your device supports this function). Technology WebSocket helps to change data in real-time without any delay.
To start using the Air console one just need to choose the needed tracker (it should be on-line), Click on "Air Console"→start connection. The session could be finalized in one click – the user just needs to click "Terminate connection".
The actual parameters list depends on the model of the device and may include information about inputs and outputs, battery level, number of fixed satellites, GSN signal etc. When some parameters change information also updates immediately.
Feel free to join us on Facebook, Linkedin, and our community portal to stay updated on recent progress in and around telematics.
https://talks.navixy.com
S. Halder, A. Ghosal, and M. Conti, Secure OTA Software Updates in Connected Vehicles: A Survey. Computer Networks, 2020.