Insurance telematics and other commonly applied terms such as usage-based insurance (UBI), pay-as-you-drive telematics(PAYD), pay-per-mile (PPM), and pay-how-you-drive (PHYD) telematics, essentially define vehicle insurance programs that took into account individual driving patterns.
Here we describe how insurance telematics could be realized and what parameters it utilizes to provide personalized driving feedback and potentially offer discounts or safe-driving rewards on particular car insurance.
Insurance telematics: relevance and benefits
Telematics data help to gather valuable information regarding travel routes, driving behaviors, customer's habits, and some particular personal preferences. This enables more productive and cases-based interaction with policyholders to establish long-term partnerships, target more effectively to individual requirements and cases, as well as to offer value-added services.
Insurance telematics could provide further possibilities for risk prediction and scoring models validation, improving claim management, and reducing insurance costs.
Furthermore, according to some current market estimations (Orbis Research), the Global Insurance Telematics Market was valued at USD 1.9 billion in 2019 and is expected to reach USD 5.25 billion by 2025, at a CAGR of 18.5% over the forecast period
Recent advances in AI, IoT, computing, and telematics reveal new pathways to establish scalable business models aimed both at incidents prevention and increasing action efficiency in emergency cases.
Implementation pathways
Currently, insurance telematics implementation could be realized by the following two general methods:
The vast majority of modern smartphones are equipped with efficient multitasking operating systems, a rich set of embedded sensors, advanced microprocessors, and enabled wireless / wired communication functionality.
Smartphone-based insurance telematics solutions could employ the power and opportunities provided by the embedded sensors. Such solutions potentially could be relatively cheap (since no further external devices needed), scalable, and upgradeable.
In addition, smartphones could act as a natural platform for providing instantaneous driver feedback, enabling smooth integration of telematics services with existing networks.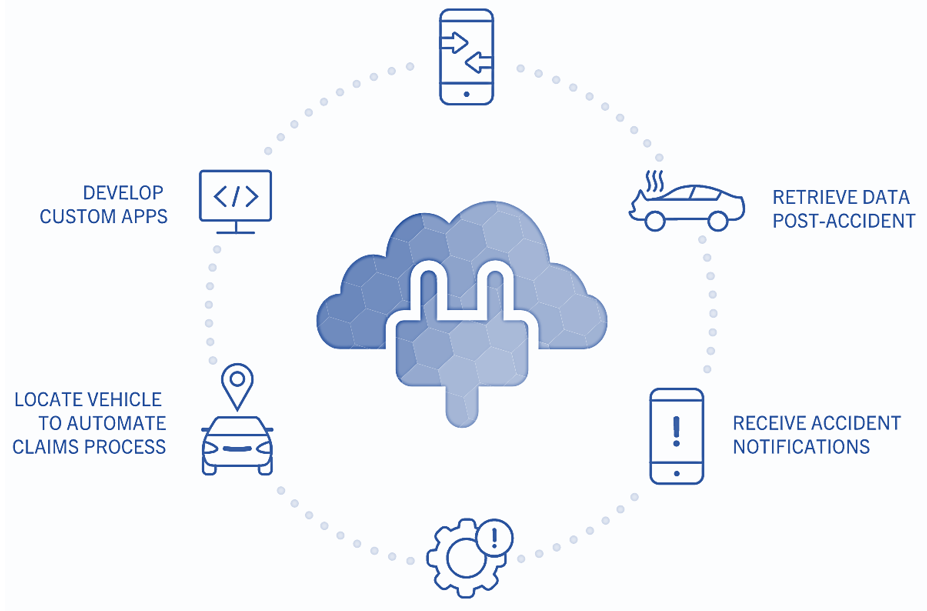 However, the development and implementation of the smartphone-based insurance telematics system could be rather challenging, due to the following entailed factors:
a noticeable amount of the embedded smartphone sensors are often of arguable quality and have not been originally designed for vehicle telematics applications.
imprecision of smartphone sensors resulting in increased requirements to employed algorithms and the development of such algorithms could be expensive with bolting down to a particular case.
smartphone battery life and power drain resulting in arguable robustness.
the smartphone cannot be easily highly precisely fixed with respect to the vehicle, which entails accuracy issues.
Utilizing a modern dedicated telematics platform could help to resolve the above-described issues. For instance, such a platform obtains the data of a committed violation from a vehicle GPS tracker and makes it visual to analyze.
Each type of violation has its own set of penalty points which are taken into account by the system for its further rating compilation. A set of driving scores and driving accuracy rating further provides insightful information on how careful a particular driver was.
Modern telematics platform could address insurance telematics challenges very efficiently, since:
Most common violations could be accurately taken into account
Alerts on violations enabled by SMS and Email to take immediate actions
Accuracy is normally higher in comparison to smartphone-based solutions since dedicated and purpose-developed hardware and software are used.
Due to rich telematics platform functionality, a larger and more accurate dataset could be gathered and further used for deep predictive analytics, providing ways for continuous insurance system improvement.
 Feature – reach solution, which functionality not really limited only by insurance-related options. Often could be further customized by means of API and SDK.
It supports a wide range of dedicated hardware and has an intuitive and easy-to-use interface.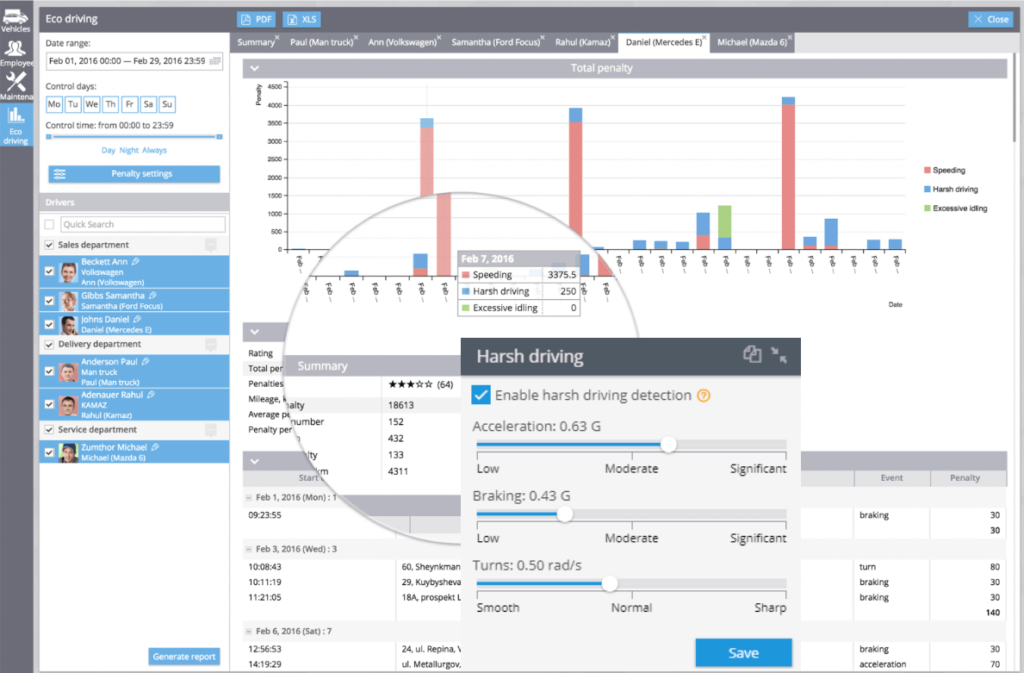 Obviously, with further advanced algorithms development, sensors quality increase and appearance of new sensors types, some mentioned issues related to smartphone-based insurance telematics could be addressed more efficiently. However, at the moment utilizing a telematics platform for insurance telematics purposes seems to be a more beneficial option.
References
https://www.navixy.com
https://towardsdatascience.com
https://www.netguru.com/blog
https://www.allstate.com
https://www.octotelematics.com
https://www.intellimec.com
https://www.orbisresearch.com
https://www.decisionresearch.com/telematicsanother-gamechanger-for-the-insurance-industry
Constandinos X. Mavromoustakis et al., Advances in Mobile Cloud Computing and Big Data in the 5G Era. 2017.