Proper cold chain monitoring is vital in ensuring the safe shipment of medical and perishable goods. But temperature control is one of the most challenging areas of supply logistics. Several Digital Matter devices combine temperature monitoring and GPS tracking to ensure critical assets are always accounted for and kept at safe temperatures during refrigerated transport.
The Falcon
Designed specifically to support refrigerated transport logistics, the Falcon GPS features inputs/outputs, I²C Sensor Interface, and WiFi Positioning for indoor and outdoor asset tracking and cold chain monitoring applications.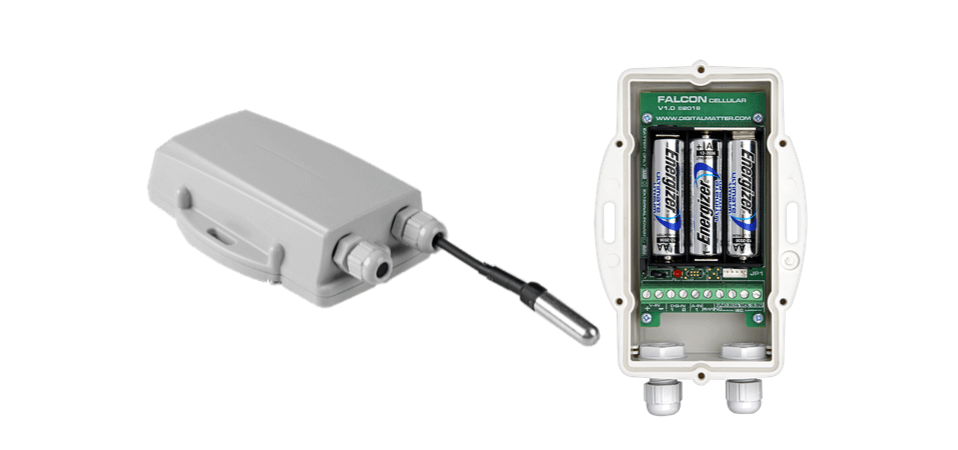 Multiple power options – 3 x AA LiFeSO2/LTC or 4-16V external power
The Falcon can be connected to a constant power source (4-16V), and additionally fitted with 3 x AA batteries. The device is smart enough to fail-over to use the 3 x AA battery supply if there is an external power cut, providing the flexibility to install the device if a power source is present, or simply use it as a portable unit if unavailable.
Two different battery types are supported – LiFeSO2 batteries, like Energizer Ultimate Lithium, or Lithium Thionyl Chloride Batteries (LTC). LTC batteries have a typical operating temperature range of -40 to +80 C, perfect for refrigerated transport, as the cold temps may result in sub-optimal performance from other battery types.
GPS + WiFi tracking
The Falcon has both a GPS and WiFi module on board to provide location updates indoors and out. If a GPS fix cannot be acquired, for example when indoors in a hospital, storeroom, warehouse, or loading dock, the device will scan for nearby WiFi networks. Services such as Google's Geolocation API can then use this information to determine a position. Learn more about WiFi Positioning Systems here.
Multiple inputs and outputs – I²C sensor interface
The Falcon features an I²C sensor interface which can be used to connect a variety of sensors including a temperature probe.
The Falcon has 2 x digital inputs which can be used to monitor a refrigerator door being open or closed.
Flexible logging parameters
High-accuracy tracking is available for users interested in how temperature changes according to different movement patterns. Temperature samples can also be set to occur on GPS fixes to tie temperature readings to trip start/end locations.
Temperature sampling can be configured to maximize battery life and user needs. Some of these options include:
Different temperature sampling and update rates when in transit versus stationary.
Adjust the sampling rate based on an input change (e.g. after the door is opened or closed).
The device can "Sleep" while within an acceptable range and then increase the sampling rate and send an alert when the temperate falls outside of this range.
G120 + Bluetooth® tags and sensors
G120 is a feature-rich vehicle tracking device and Bluetooth 5.0 Gateway that was recently integrated by Navixy.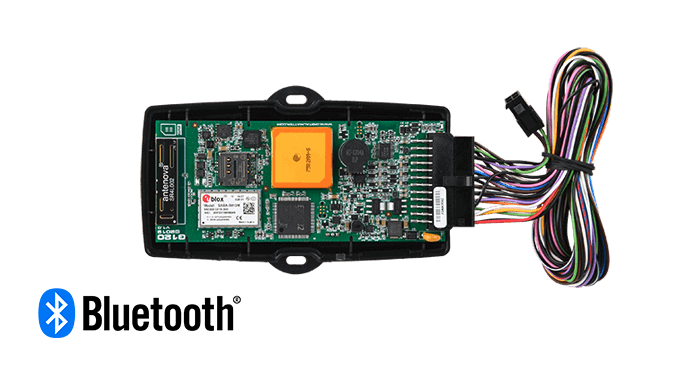 Hardwired into vehicles, G120 is a complete fleet management, driver ID, and driver safety and behavior solution with features such as:
RFID Driver ID option for driver management and behavior monitoring
​ODO/Run hour monitoring
Over-speed alerts, harsh accident and rollover detection and alerting
Multiple inputs to monitor seatbelt usage, 4WD engaged, etc.
Outputs to wire in buzzers for driver feedback, or to be used to immobilize the vehicle
Optional Iridium Satellite fallback to track vehicles in low cellular coverage areas
In addition to real-time vehicle tracking, the G120's onboard Bluetooth module can be paired with SensorNode Bluetooth or any third-party Bluetooth sensor to report temperature wirelessly.
With flexible power options, the SensorNode can be powered by 3 x AA LiFeSO2 or alkaline batteries with up to 4 years of battery life or wired to permanent power. As per the Falcon, the SensorNode Bluetooth also has the following inputs – 2 x digital Inputs, I2C sensor input, 1 x Analogue Input. It samples all inputs every 30 seconds and sends a Bluetooth beacon signal containing the readings every 2 seconds. G120 will detect this and upload the readings as part of its data.
Which device is right for my refrigerated transport needs?
The Falcon is a stand-alone tracking unit, and has GPS/WiFi for tracking, along with a cellular modem to transmit its data.
The SensorNode Bluetooth® has no onboard location capability and can only communicate via Bluetooth (i.e. to G120 and not directly to the server). It must be within the range of G120 or other Bluetooth device for the server to be able to receive the data.
In order to benefit from complete tracker functionality, an optimal solution would be to employ an advanced features-rich telematics platform that equally supports a wide range of devices and is easy to use with all the functionality needed at the moment, while constantly developing to provide extended innovative solutions for the future sake.
You are warmly welcomed to join us on Facebook, Linkedin, and our community portal to stay updated on recent news and progress around telematics.