Fuel consumption monitoring is an important feature of GPS tracking and fleet management. There are several ways to measure a vehicle's real fuel consumption, the most common are the following:
Installation of an accurate fuel level sensor or fuel flowmeter;
Vehicles CAN bus data usage;
Connection to the fuel sensor already installed in the vehicle.
Each method has its pros and cons and can be applied to different vehicles. Here we provide an overview of the fuel monitoring solutions from Mechatronics.
Step 1. Can we use CAN bus data?
New generation trucks use special electronic communication protocol between onboard electronic modules – CAN J1939. For example – Scania, Volvo, DAF, MAN, Mercedes. The protocol contains information about speed, RPM, coolant and oil temperature, instant fuel consumption, and total fuel consumed. You can read this information with a GPS tracker that supports CAN bus interface. Not only trucks use CAN bus fuel consumption data. It can also be special machinery, buses, tractors, diesel generators.
Pros:
No need to buy extra fuel monitoring sensor.
Simple connection (if you know how to find CAN bus wires).
Cons:
Fuel consumption data is not always present on the CAN bus.
Instant fuel consumption value is another parameter and cannot be used for total fuel consumption calculation.
CAN bus fuel consumption data may have a 1-10% error.
CAN bus fuel consumption value may be lower than real. That means one can suspect the innocent driver.
You can't monitor the fuel tank. (in fact, you can find fuel level messages in the CAN bus but precision is arguable).
To make CAN bus connection secure Mechatronics offers contactless CAN-bus readers Eurosens InCAN.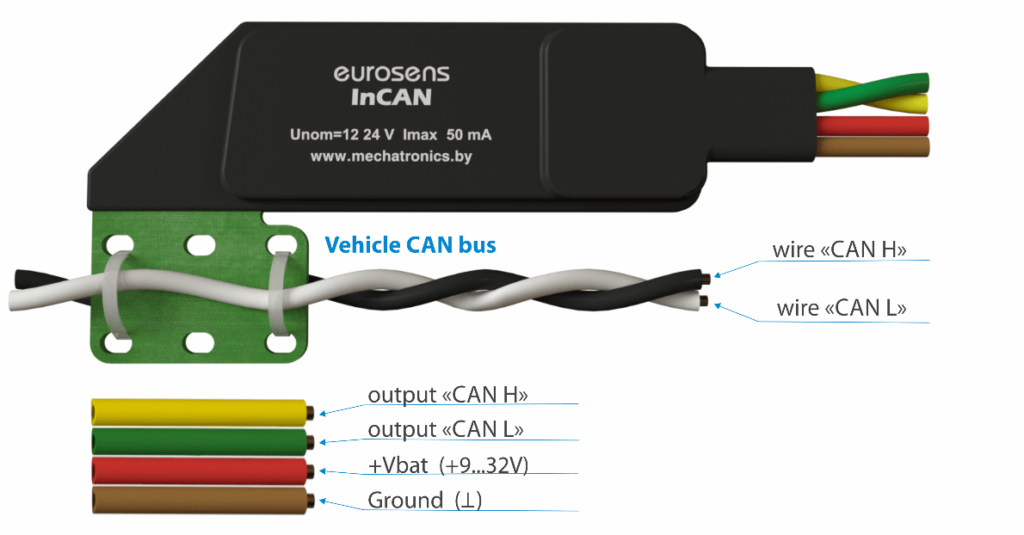 A secure and non-invasive CAN bus connection is essential because direct interference can violate the vehicle's warranty.
Step 2. Fuel level control with a special extra-precise sensor.
The special fuel sensor is installed in a fuel tank, where a hole needs to be drilled. The sensor will provide fuel level data. Eurosens Dominator fuel level sensor's resolution is 0.1 mm.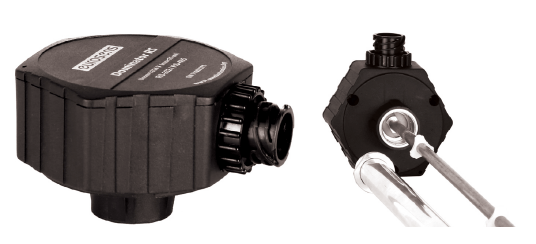 Pros:
High precision monitoring of refuelings and fuel thefts from the tank (approx. 1 % accuracy from the tank volume).
It can measure gasoline or diesel consumption at any vehicle or diesel generator.
It can be used with most GPS trackers.
Most AVL tracking software can calculate refueling volume and detect thefts automatically based on fuel level sensor data.
Inexpensive.
Cons:
As the fuel level sensor measures the fuel level, you need to convert these values to fuel volume. The special tank calibration procedure is used. It takes about 1 hour.
Fuel level values always have fluctuations during a vehicle's operation. The fluctuations highly depend on the vehicle's tank shape and operation mode.
Minor error: symmetric tank, plain surface. Major error: not-symmetric tank shape, many uphill/downhill movements.
Mechatronics can also provide a wireless version of the fuel level sensor. It is a battery-powered Eurosens Dominator BT with Bluetooth interface. It can be connected to the popular Teltonika, Queclink, Navtelecom GPS trackers with Bluetooth BLE support, and features 5-year battery life.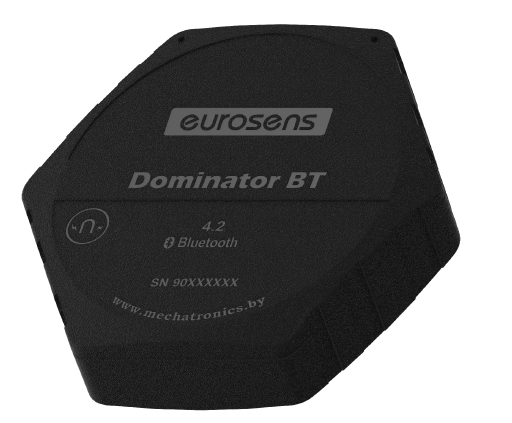 Step 3. Fuel consumption meter. The most reliable method of remote fuel consumption monitoring.
Mechatronics offers two types of fuel flowmeters: a single-chamber Direct and a differential Delta. With two measuring chambers, Delta measures both supply and return lines and calculates the difference which is the real fuel consumption.

Pros:
Accurate fuel consumption measurement for any diesel engine in any operations.
Instant fuel consumption data.
Engine operation time.
Engine operation mode autodetection: idling, nominal, overload modes, and intervention attempts.
Fuel drains prohibition.
Cons:
Price (for differential flow meter).
Can be installed only at diesel engine.
No information about refuelings is provided.
Fuel consumption monitoring in cars
LPG level monitoring
Fuel tankers monitoring

Pros:
No tank drilling is required.
It can measure any transparent liquid.
The same precision as the capacitive level sensor has.
Refuelings and fuel thefts from the tank are under control.
Cons:
More expensive than a capacitive fuel level sensor.
Vandalism-prone installation near the road surface.
Can't make measurements if the fuel tank is not parallel to the ground.
+ all CONS of the capacitive level sensor.
Mechatronics offers a diverse range of fuel consumption monitoring hardware. But still, there are some extra options to complete the portfolio.
The capacitive fuel level sensor is a proven fuel monitoring solution at a reasonable price. But one might consider its installation challenging as clients may refuse to drill the tank.  One possible approach is to replace the vehicle's float type sensor by Eurosens Dominator. To keep the dashboard fuel gauge working after that, the Eurosens Dash interface could be used.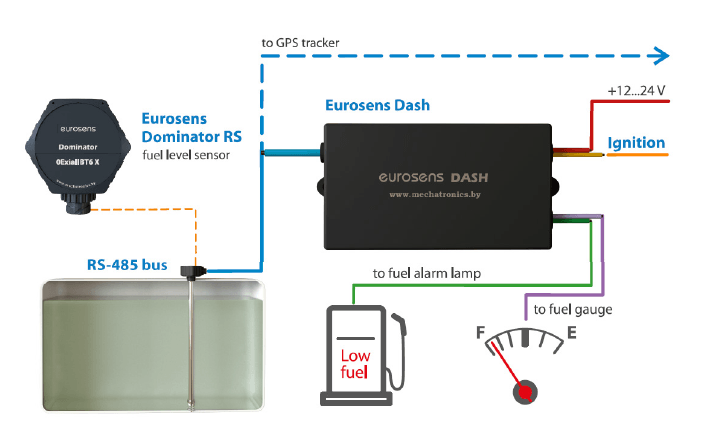 According to the scheme vehicle's sensor is replaced by Eurosens Dominator fuel level sensor and the dashboard gauge works with the help of Eurosens Dash.
Someone may say that fuel consumption monitoring in light vehicles is the most difficult task. Cars don't have a standard CAN bus and usually, there is a little space for the installation of an accurate fuel level sensor. The price of the Eurosens Dizzi ultrasonic sensor could be also a problem for a customer.
Mechatronics provides a free cloud CAN-bus decoder service www.can2sky.com which helps analyze cars CAN bus logs and find fuel level identifiers to be read by a GPS tracker.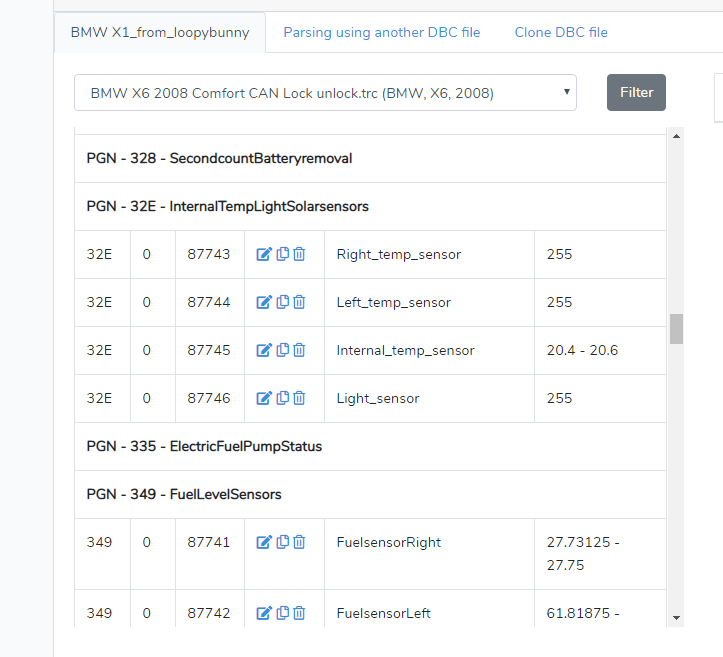 And if a car does not have a CAN bus at all, one can use the Eurosens Dock controller. It is a simple device used to improve fuel level data coming from a vehicle's level sensor. Originally analog, its signal depends on the onboard voltage that also falls to 0 after ignition is off. Eurosens Dock makes a rapid correction of the vehicle's sensor data according to the measured onboard voltage and converts it to a lossless RS485 interface that is compatible with a variety of GPS trackers. Thus, Eurosens Dock is an improver of vehicle gauge data.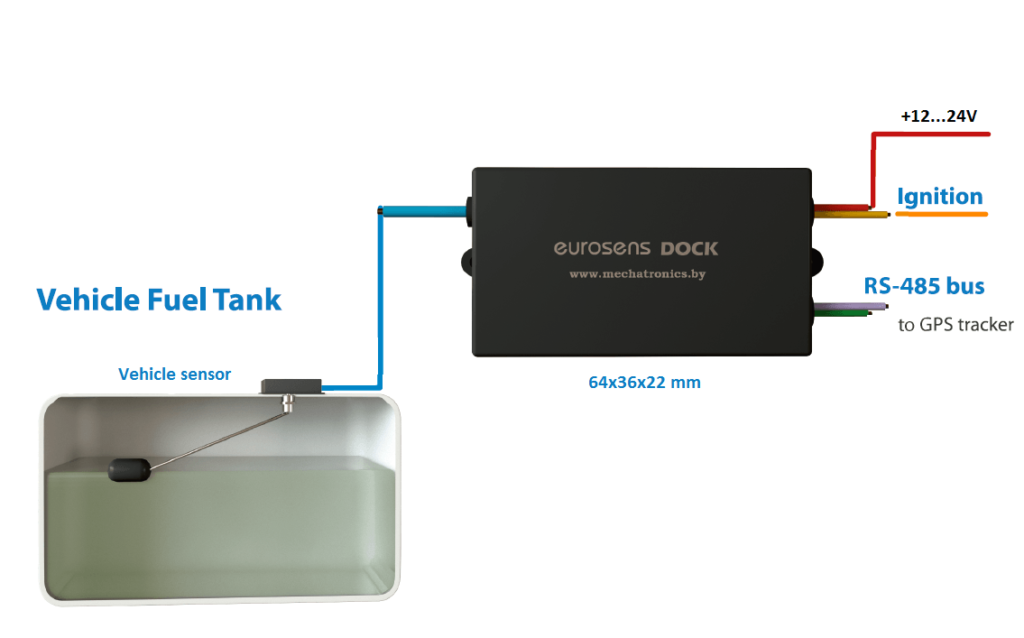 Installation is an important part of the project. That's why Mechatronics pays great attention to the simplification of the sensor's installation and service.
Eurosens Dominator sensors have a modular design which drastically reduces maintenance costs during the operation period. To ease the calibration process, there are several online tools: a cistern calibration calculator based on the tank's dimensions and a tank calculator based on the calibration table.
Eurosens fuel flowmeters Direct and Delta can be serviced onsite without sending them to the manufacturer.