In 2020 the GPS tracker market is abundant with tons of devices for cargo tracking. The booming growth heated with the rapidly growing demand and latest advancement in technologies forces dozens of manufacturers into dramatic competition.
Whether you are looking for the smallest, magnet mounted device, the one with temperature monitoring feature or just longest battery life, you'll be enraptured with the diversity of models. Unsurprisingly, even experienced customers get messed up with finding the right fit.
Navixy expertise
Having more than 15 years of professional expertise in advanced, features-rich and reliable GPS monitoring software with an impressive cohort of 1200+ supported GPS devices from numerous world leading manufacturers, we are ready and happy to share our insights.
Working with expensive cargo, it is vital to ensure its safety during transportation to the destination. GPS tracking system is a reliable, convenient, and highly effective tool that enables you to track every step in the process of cargo transportation.
It is crucial to be confident that a particular GPS monitoring platform works well, stable and smoothly with actual physical devices.
Our latest pick of top cargo GPS trackers is explicitly aimed to help you with your choice. We not just contacted every manufacturer, but interviewed hundreds of professionals that use GPS solutions for logistics and rely on our extensive practical experience.
How to choose the best cargo GPS tracker
At first glance, the choice of a proper device depends on the size of the cargo and how it is transported. Let's consider how to choose an appropriate device depending on the exact aim.
Cargo GPS trackers for small loads
Loads that can be carried in bags or boxes. In such cases, you can use small trackers with an internal battery. The pre-configured beacon should be placed in the transported object.
Digital Matter Oyster
Dimensions: 10 x 6.5 x 1.9 cm
Battery: 3×1.5V AA batteries
Price range: 75-93$
Special features: compact, IP67, accelerometer,
easy to install
Supported by Navixy: yes
Queclink GL50B
Dimensions: 41.8 х 46.8 х 16.9 mm
Battery: 2400 mAh, Li-MnO2
Price range: upon request
Special features: compact, GPS/Bluetooth/GSM
Supported by Navixy: yes
Devices can be set to interval or continuous tracking mode.
The first case actually means that the device will send data packets on a periodical basis. As a result, it will save the battery charge, so the tracker will work longer.
In the second case, the device will transmit data rather frequently, leading to more accurate tracks. The drawback is that the battery will drain faster. Therefore, this method will be more preferable for short-distance transportations.
Cold chain GPS tracking
No doubt that cargo transportation very often dealing with a wide variety of products, is dramatically sensitive to medium temperature and humidity. It could be for instance frozen food, chemical and pharmaceutical compounds, fresh fruits/vegetables, and more.
Teltonika FMB120
Dimensions: 65 x 56.6 x 18.9 mm
Battery: 170 mAh Li-Ion 
Price range: around 42$
Special features: accelerometer, 1-wire interface
for temperature data, and RFID/iButton tags
Supported by Navixy: yes
Such conditions require a GPS tracker to allow ambient conditions monitoring as well as regular tracking functionality. Such functionality could be provided by means of sensors.
The ability to connect sensors, as well as their number may vary depending on the device model and on software being utilized. A smart solution would be to monitor not only temperature and humidity readings but a whole range of data from fuel CAN to tachograph live.
Teltonika FMB640
Dimensions: 104.1 x 76.8 x 1.5 mm
Battery: 10-30 V DC / 550 mAh Ni-Mh
Price range: around 80$
Special features: temperature, humidity, and
LLS sensors, backup battery
Supported by Navixy: yes
GPS tracking for shipping containers
More massive cargos are normally way more valuable, therefore transported in dedicated containers and truck trailers.
As a result, small asset trackers cannot provide convenient monitoring, since it is difficult for such trackers to receive a GPS/GSM signal through the solid metal body of the container. In addition, small-sized devices have low-capacity batteries, insufficient for long trips.
As such, for these purposes key device parameters would be: large battery capacity, robustness, energy-efficient components, and special firmware algorithms, dropping the device asleep every time it is stationary.
Carscop CCTR-809
Dimensions: 77mm x 53mm x 29mm
Battery: Li-battery 6000mAh
Price range: around 30$
Special features: IP67, geofence alarm
Supported by Navixy: yes
Carscop CCTR-809 is equipped with a low self-consuming Li-battery (6000mAH) that provides 3-5 Years battery working time and benefits from magnets that can be installed.
Cargo GPS trackers: advanced solutions
As we mentioned above, magnetic trackers and devices with locks indeed provide higher security. Below we will describe each type in more detail and how it can be employed.
As we mentioned above, magnetic trackers and devices with locks indeed provide higher security. Below we will describe each type in more detail and how it can be employed.
Magnet GPS tracking device for trailers
Some devices can be magnetically attached to a metal surface. This allows you to place the GPS tracker anywhere on the container or truck trailer. In addition to the mentioned function, the devices can send an alert if someone tried to detach the device from the object or when there was an attempt to jam the GSM signal.
Meitrack T355
Dimensions: 105 x 75 x 45 mm
Battery: 7400 mAh
Price range: around 230$
Special features: drop alarm, up to 1 year standby time
Supported by Navixy: yes
Concox AT4
Dimensions: 108 x 61 x 30 mm
Battery: 10000mAh
Price range: upon request
Special features: IPX5, waterproof, powerful Nd magnet
Supported by Navixy: yes
Naturally, magnet GPS trackers require no special installation. Simply register it in the employed monitoring system and attach to the object. We recommend to do it carefully, since some magnets according to our experience could be strong enough to cause malfunction even to rugged devices, if one nearly throws it to the mounting area.
GPS container tracking with e-locks
There is also a separate type of GPS trackers that performs two functions at once: location tracking and locking. A container or truck trailer can be locked with the GPS lock: if somebody tries to open it, the device will send the alert.
Meitrack K211G
Dimensions: 112 x 195 x 37 mm
Battery: 14 000 mAh
Price range: around 240$
Special features: RFID, IP67, optional LoRa, 78 days battery life
Supported by Navixy: yes
Jointech JT701
Dimensions: 195 x 114 x 37 mm
Battery: 15000 mAh
Price range: around 160$
Special features: IP67, built-in wireless/GPS module, RFID
Supported by Navixy: yes
Make sure that the chosen GPS tracking and telematics platform supports remote lock control. This feature reveals the full potential of such devices and improves the quality of security, especially if a password is required to lock/unlock the device
GPS trackers for cargo security: a message to take away
In order to assess GPS trackers for cargo security and smart monitoring purposes, it's crucial to bear in mind some key aspects.
As being mentioned before, in cases of small loads that can be carried in bags or boxes, one can employ small lightweight trackers. Nobody fancies carrying a half-kilo brick for the sake of tracking.
In contrast, significantly more massive cargos require large battery capacity for constant monitoring over large distances and robustness, so that it will not "melt" under the intense sun or will not freeze when it's below zero. Energy-efficient components and special firmware algorithms, with a possibility to standby when the vehicle is not moving, are required to preserve the battery charge. A useful option would be also a so-called drop alarm: if the tracker has not been attached to the vehicle for over 5 seconds, an alert will be generated.
Crucial software features for Cargo GPS tracking and monitoring
In order to benefit from complete tracker functionality, an optimal solution would be to utilize an advanced features-rich telematics platform that equally supports a wide range of devices and is easy to use with all the functionality needed at the moment, while constantly developing to provide extended innovative solutions for the future needs.
Therefore, while selecting the platform, please make sure it has the following features:
Fast and easy GPS tracker activation. Some platforms provide automated M2M commands for initial hardware configuration to provide plug-and-play simplicity. In this case, one simply needs to fill in a few parameters (phone number, APN and IMEI) and click Activate. The rest will be done by the GPS tracking platform itself.
Instant alerts. Make sure the telematics software provides real-time alarms for every crucial parameter you need, in particular: geofence entering/exiting, fall detection, low battery, container door opening and GPS tracker detached alert. Rule configuration should be intuitive with customized notification messages – so that it's really useful and convenient to use.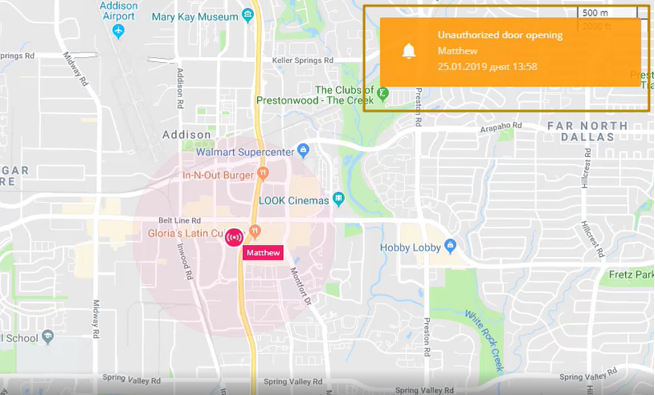 Automatic reports. The automatic reports come in handy to acquire all-around statistics and analytics. Learn routes, travelled points and events in tables and graphs.
Remote management. Don't hesitate to check that the telematics platform supports over the air configuration of crucial parameters to change tracking mode or settings even if the GPS device is in the distance.
The configuration itself should be provided easily too: to the best of our practice, one of the most intuitive ways is through portlets.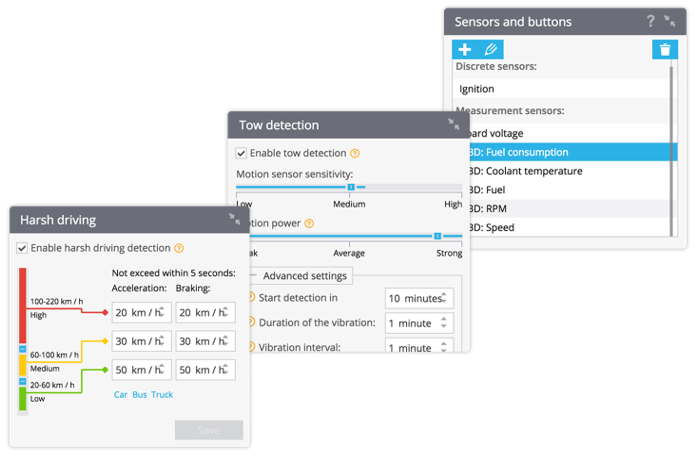 If you need more insights on supported devices and available options, including those which could not directly be extracted, please feel free to go through the complete list of currently supported devices or contact our tech engineers at [email protected]
You are also warmly welcome to regularly share your thoughts on the devices, tracking solutions and the entire Navixy platform on our community portal.
To know even more regarding what's going on around GPS monitoring today and which chunks of the telematics future will soon interact with you on a daily basis, we encourage you to follow us on Facebook and Linkedin.