In 2020, we have entered a period sometimes referred as the "Internet of Everything" age – a concept that brings together people, data, things, and processes. Therefore, the data flow becomes even more valuable and massive. Even recently introduced 5G technology would not be able to completely cover the evolving demands of the developing digital world. One possible solution to address these challenges could be a 6G technology, that we will briefly describe in this review.
Please, feel free to watch our video-discussion regarding 6G
6G – What, Why, and How…
Despite recently introduced 5G technology indeed offering significant advantages in speed, connectivity and high-end applications, compare to the previous generations, some estimations already predict that it will not be able to satisfy rapidly growing market demands by 2030.
For instance, some conteniously evolving modern applications such as virtual reality devices need to go beyond 5G since they require a minimum of 10Gbps data rates. In addition, it is expected that the global mobile traffic volume will increase 670 times in 2030 as compared with the mobile traffic in 2010.
Taking all it into account, it becomes pretty obvious that there is a clear demand of more advanced network than 5G in next decade.

At the moment, it is seems that 6G could especially be fruitful in areas like for example augmented reality, smart healthcare, interactive systems, automation and manufacturing, internet of everything, machine to machine communications, etc.
s a result, 6G seem to be able to advance and contribute to most of rapidly growing digitalized areas. A 6G network requrements currently predominantly based on assumptions and partially originate from 5G network limitations. A relative comparison of 6G vs 5G and 4G based on some key network parameters is presented in a figure below.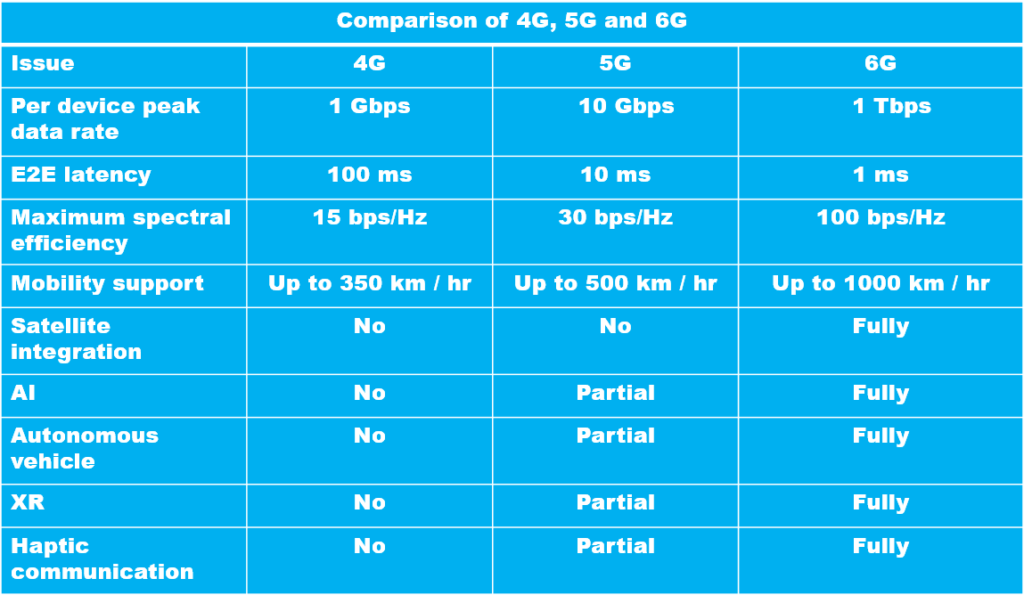 From the table above, one can immediately pick a key 6G advantages, including significantly lower latency times, high peak data rates that are estimated to reach 1 Tbps, and even more advanced supported features, including AI and haptic communication. Indeed, such advanced network properties will entail many changes, including the network architectures.
6G: Possible Architecture
The 6G technology will enable new network architectures, but at the same time it will require advancing and modernisation of existing networks. An example of how a potential 6G communication architecture could look like is shown on a sketch below.
One key 6G forecasted feature is the intensive AI diffusion into almost each network component at all levels, from network management throuought to coding and signal processing at physical layer.
Some other potential 6G features would probably include smart structures use, wireless power transfer, radar and mobile technologies integration, more advanced antennas structures including metamaterials, teraherz communications and new channel estimation techniques.
According to the recent research-based estimations and predictions, 6G seem to further improve and empower full connectivity via autonomous services, small cell random access network, small cell access points and user equipment, software defined networks, by utilizing ultra massive MIMO (multiple-input multiple-output) base stations, etc.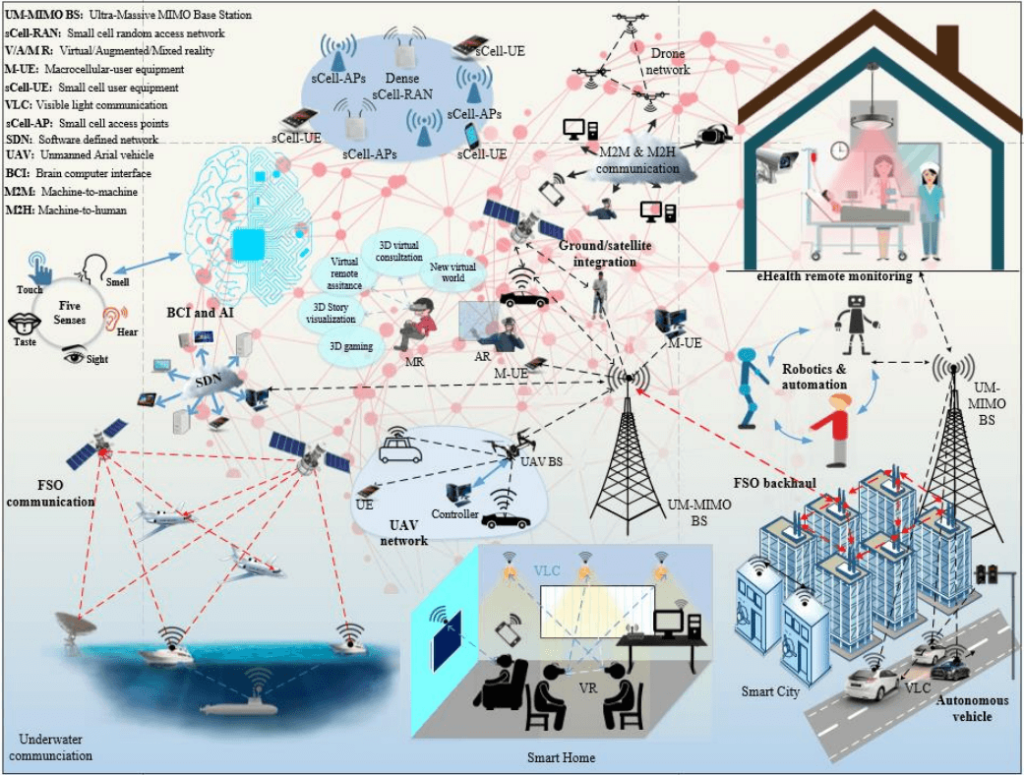 Another interesting envisioned aspect of 6G networks is their ability to provide a so-called 3D coverage, meaning that it potentially would enable to supplement existing terrestrial infrastructures with non-terrestrial platforms: sattelites, balloons, drones and so on. All these will increase service reliability, connectivity and ensure seamless service continuity during the events or in rural areas, cutting off operational costs and providing great efficiency.
Further innovations in 6G architecture will potentially involve additional components virtualization, efficient energy harvesting and green energy use – especially for low power nodes, cell-less architectures and multi-connectivity.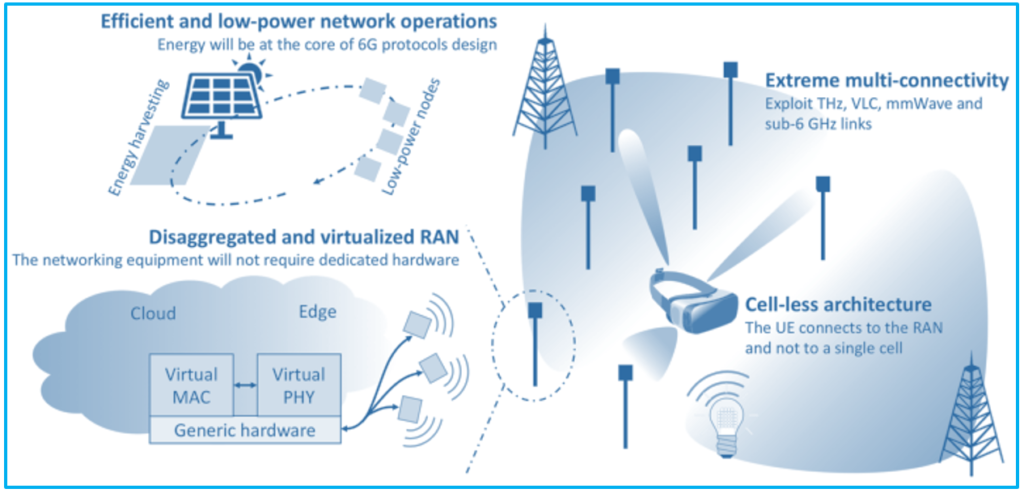 6G: challenges
As we described above, 6G implementation will requre deep modernisation of existing networks architectures and even 5G architectures that are currently under development and installation. However, there are way more challenges that needs to be solved before 6G will be successfully and efficiently implemented.
Some of them related to terahertz and VLC deployments and may lead to a massive increase in the density of access points. Other chalenges include further technology and protocols protocols developments, network bands standartization and certification, relevant metrology development and political regulations and dynamic topology to name a few. In addition, the 6G concept could be avoided as long as 5G technology attracts most of markets, investors and engineers attention.
6G for automotive and transportation industries
Automotive and transportation industries currently undergo a generation change, thanks to the new horizons enabled by 5G technology, opening new opportunities for extreme data rates, AI integration and new standards development. Empowered with AI and extreme data rate provided by 6G connectivity, autonomous and connected vehicles technologies will reach a new height.
6G: current state
The 6G standards and technology are currently the subjects of intense research efforts and discussions. 6G is a subject of especially significant attention in USA, China, Japan, South Korea and most EU countries. Samsung Electronics has opened an
R&D center to focus on essential technologies for 6G mobile networks. Obviously, 6G is also hot topic in academic research – for example, University of Oulu began the 6G research activities under Finland's flagship program.
References
Towards 6G Networks: Use Cases and Technologies, Marco Giordani et al., 2019.
A Speculative Study on 6G, Faisal Tariq et al., 2019.
6G Wireless Communication Systems: Applications, Requirements, Technologies, Challenges, and Research Directions. Mostafa Zaman Chowdhury et al., 2019.
https://qz.com/1743790/forget-5g-china-begins-development-of-6g
https://searchnetworking.techtarget.com/definition/6g